客廳|公共空間的場所精神,源自族內長老的聲聲教育,每個晴雨夜聚,每次細數星光如織的夜冪,以心談心的歇息,或歌或舞,圍繞著火光映照著黑瞳,故事在這裡代代口耳傳遞。現代室內生活空間,也可擁有一處人與人之間自在交往的場所,或坐或躺,體驗石板、陶土、織品、植物纖維、漂流木與現代材質結合的生活之美。
Living Room|The venue spirit of public space comes from the mentoring of elders in the tribe. In every sunny and rainy night gathering, every time counting stars in the evening sky, we chat with our soul and sing and dance around the fire shining over the black pupils, and stories are passed down from one generation to another. In modern indoor living space, there is always a place where people can contact with one another relaxingly, sitting or lying, and experience the beauty of life made up of stone tablets, pottery, knitting, plant fibers, driftwood, and modern materials.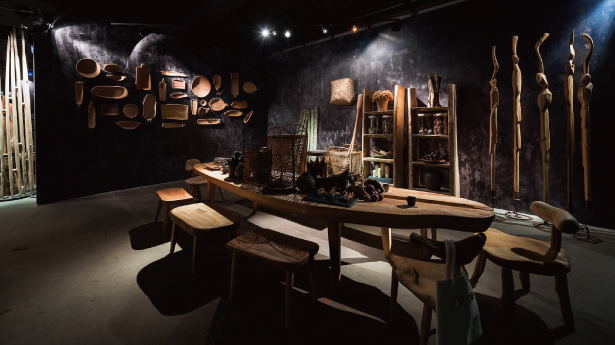 餐廳|漂流木,花東原住民創作者眼中的大自然獻禮,來自溪流、來自颱風、來自海洋。漂流木,從海洋來到日常生活中。領略有機材細微、多層次的色澤與質感。
坐定惜材的大器桌椅,享用採自嵐山及海味的天食,紅藜麵包與小米烹製佳食、小米酒與飛魚乾。沒有過多調味,多是對天然珍惜的品味;在馬告佐湯的熱氣交談裡,大快朵頤團團相知的美味。
Restaurant|Driftwood, the gift from nature in the eyes of Indigenous artists in Hualien and Taitung, comes from rivers, streams, typhoons, and the ocean. From the ocean to daily life, let us experience the organic details and gradational luster and texture of driftwood.
Sitting at the majestic table and on the noble chairs made of driftwood, you can enjoy the natural food from the hazy mountain and sea, the Formosa lambsquarter bread and millet foods, and the millet wine and dried flying fish. There is no excessive seasoning, except the flavor of the cherishment of nature. Chatting in front of the hot soup seasoned with fragrant litsea, simply enjoy the taste of acquaintance.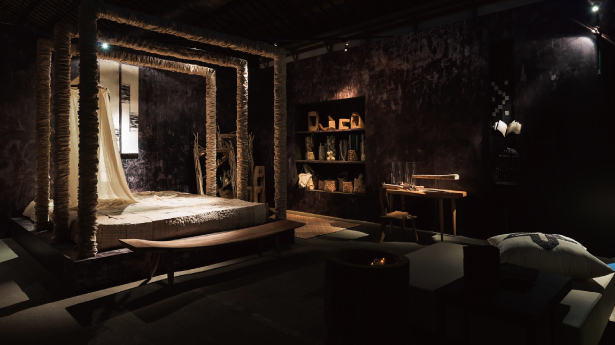 臥房|冬暖夏涼月桃蓆,質樸觸感漂流椅。放鬆一天疲累,躺入自然懷抱,月桃香、原木味,有機香氛洗滌都市的煩躁,舒適觸感貼合著肌膚。
坐臥織品間,棉麻勾織簡約蓋毯、色土與神化交織的琉璃珠抱枕、溫柔雙手織就的色紋布飾,感受設計師與創作者的配色與質感敏銳度,靜靜地傳遞著原住民與土地的關係。
Bedroom|The shell ginger mat keeping you warm in winter and cool in summer, and the natural touch of floating wood chairs. Relaxing the fatigue from work, lying in the arm of nature..., the fragrance of shell ginger and the smell of log, organic fragrances wash away urban anxiety and comfortably touch your skin.
Lying or sitting on the textile, the cotton and linen blanket in a minimalist style, the glass bead cushion with theist patterns in earth tone, checker-patterned fabrics made with tender hands, you can feel the creative coloring and texture sensibility of designers and artists silently conveying the relationships between indigenous peoples and land.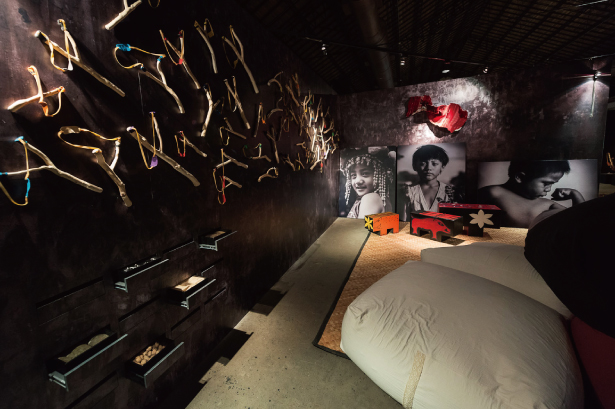 兒童區|還記得那把陪著你度過童年時光的「自製彈弓」嗎?還有翁仔標、橡皮筋、彈珠……。漂流木手工彈弓,鳥兒、天空與樹梢,仍是部落生活的童趣,喚起都市的童年往事。
享受孩提的游於藝,隨意躺臥織品軟骨頭、自在攀坐紅色山豬椅。盡情玩耍,孩子的最大快樂。一個個積木似的紅山豬,出自鄒族部落流傳的「山豬王」故事——一個沒有完美結局的淒美愛情故事……。
Children's Area|Do you remember the "self-made catapult" that accompanied your childhood? The pogs, rubber bands, marbles.... driftwood catapult, birds, sky, and branches, these are all the child toys in tribal life recalling the urban childhood past.
Enjoying the natural life in childhood, lying on the lazy-bone textile cushions, sitting on top of the red boar chair...Playing heartily is the biggest fun of childhood. The block-like red boars owe its origin to the "Boar King" legend of the Tsou Tribe, a sad love story without a happy ending.
祖靈之柱
Ancestry Pillar
山羊群
Goat Carving
魚簍燈
Creel Lamp
中央樹燈
Central Tree Lamp
請以全螢幕播放,達到最佳瀏覽效果。